Bioblast 2022: BEC Inaugural Conference
Keywords:
abstracts, Bioenergetics Communications, Living Communications, bioblasts, mitochondria, plastids, chloroplasts
Summary
Bioblast 2022 is a follow-up of Bioblast 2012 [1] and the first life conference linked to the journal Bioenergetics Communications [2]. It can be seen in the line of MiPconferences of the Mitochondrial Physiology Society [3], which was founded at the 3rd MiPconference in 2003 [4]. The last one took place in 2019 in Belgrade, RS within the COST Action MitoEAGLE [5]. The MitoEAGLE Summit was prevented from happening by the pandemic lockdown. Instead, the MitoEAGLE Consortium of 666 coauthors completed the first publication in Bioenergetics Communications [6]. In the tradition of Bioblast and MiP [1,7], Bioblast 2022 is presented with the beauty of Odra Noel's MiPArt and is honored by her presence at the conference. We celebrate 30 years Oroboros Instruments. As a follow-up of the MitoEAGLE project [8], the MiPsociety and the Oroboros Ecosystem are the drivers of Bioenergetics Communications.
The endosymbiotic theories link the mitochondria and plastids to their free-living ancestors. Together, these are the bioblasts in spotlight of bioenergetics. Bioblasts and interactions with their hosts are the topics of Bioenergetics Communications, inaugurating the concept of Living Communications.
Cite:
Gnaiger E, Cardoso LHD, Tindle-Solomon L, Cocco P, eds (2022) Bioblast 2022: BEC Inaugural Conference. Bioenerg Commun 2022.1. https://doi.org/10.26124/bec:2022-0001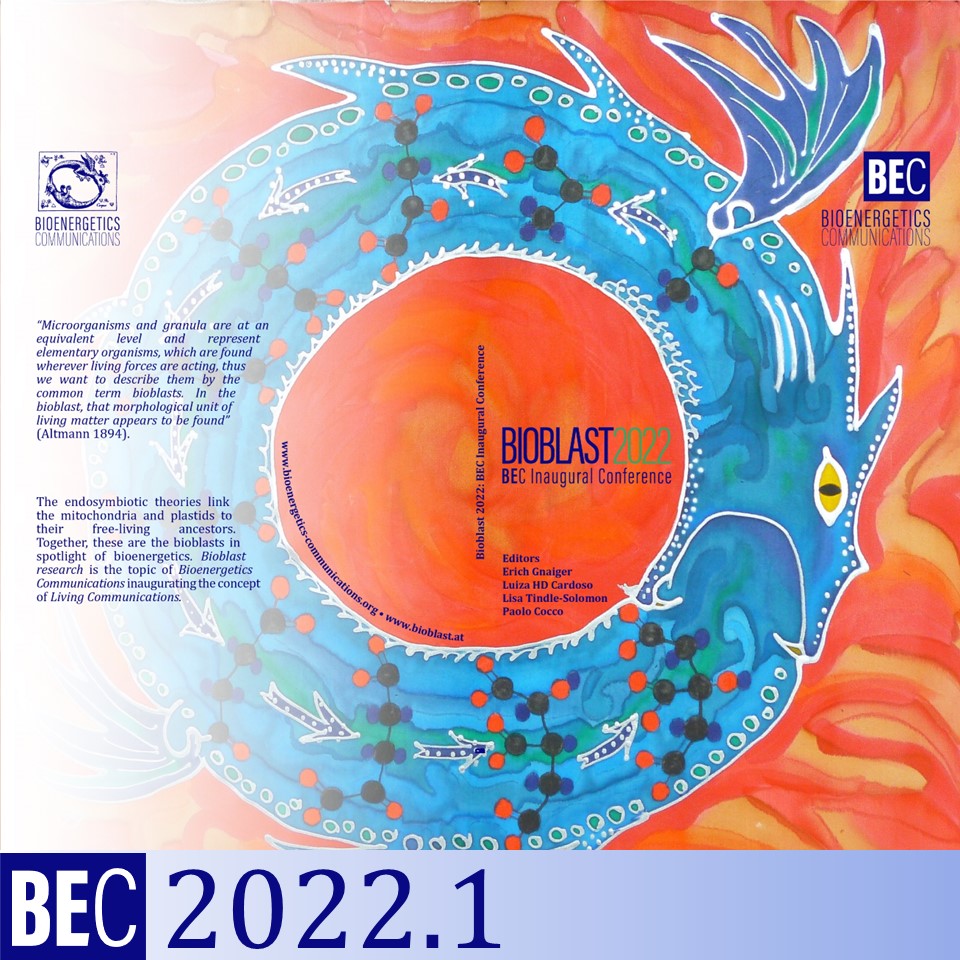 Downloads
Section
Living Communications
License
Copyright (c) 2022 Erich Gnaiger, Luiza HD Cardoso, Lisa Tindle-Solomon, Paolo Cocco
This work is licensed under a Creative Commons Attribution-NonCommercial-NoDerivatives 4.0 International License.