Mitochondrial pathways and respiratory control
An Introduction to OXPHOS Analysis. 5th ed.
Keywords:
Q-junction, Respiratory states, Flux control ratios, Additivity, Body mass excess
Abstract
Did you know that keeping your mitochondria fit is essential for quality of life, brain and muscle function, and resistance against preventable, immunological, and age-related degenerative diseases?
The capacity of cellular oxidative phosphorylation (OXPHOS) — a direct measure of mitochondrial function — is a result of evolution, age, gender, lifestyle, and environment (EAGLE). Increasingly, western lifestyle and aging contribute to mitochondrial dysfunction and the current epidemic of preventable diseases, including neurodegenerative and cardiovascular diseases, obesity, diabetes, and various types of cancer. The mitObesity epidemic leads to multimorbidity in aging and threatens to overwhelm the capacity of healthcare systems.
Training in mitochondrial physiology and bioenergetics, therefore, has high relevance to society. The 'Blue Book' on Mitochondrial Pathways and Respiratory Control presents a fundamental introduction to OXPHOS analysis for students and researchers in life sciences ― from evolutionary biology to medical and environmental applications. It combines concepts of bioenergetics and biochemical pathways related to mitochondrial core energy metabolism, provides the basis for substrate-uncoupler-inhibitor titration (SUIT) protocols, and updates the terminology consistent with the MitoEAGLE white paper on Mitochondrial Physiology.
It is now our responsibility to transfer the enthusiasm for innovation, reproducibility, and quality in science, and to translate mitochondrial research into visionary healthcare solutions.
Cite:
Gnaiger E (2020) Mitochondrial pathways and respiratory control. An introduction to OXPHOS analysis. 5th ed. Bioenerg Commun 2020.2. https://doi.org/10.26124/bec:2020-0002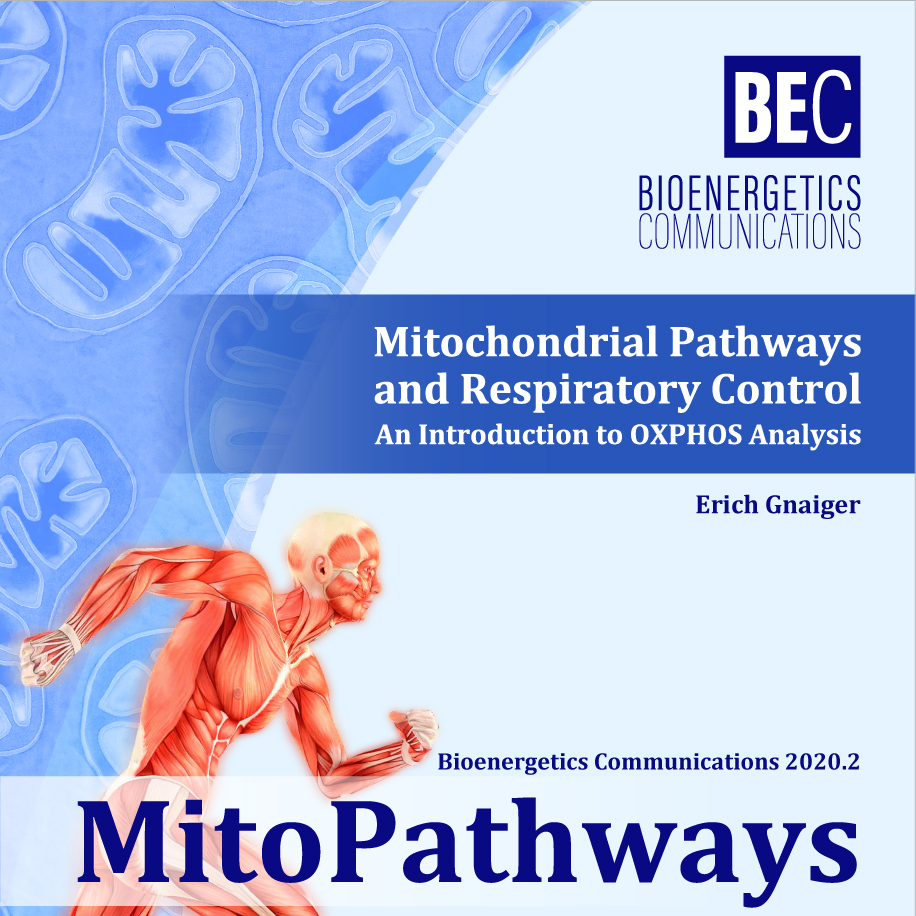 Downloads
Section
Living Communications
License
Copyright (c) 2020 Erich Gnaiger
This work is licensed under a Creative Commons Attribution-NonCommercial-NoDerivatives 4.0 International License.